Living Well Sefton is a free service with a focus on supporting people with issues that may be affecting their health and wellbeing.
To learn more about Living Well Sefton or make a self-referral please visit:
Living Well Sefton Partners
Living Well Sefton is a collaboration of organisations made up of: Active Sefton, Brighter Living Partnership, Citizens Advice Sefton, Feelgood Factory, May Logan Centre, Smokefree Sefton, and Sefton Carers Centre.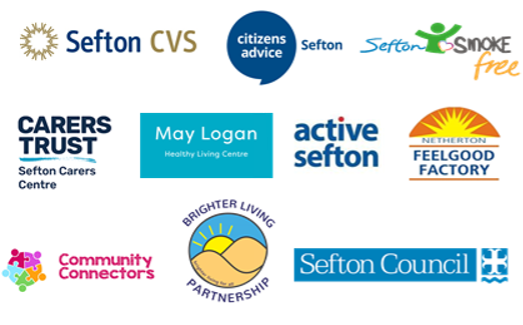 There are also a number of Neighbourhood Partners who work with individuals to provide the support they need to live happy lives and improve their health and wellbeing.
Grants
Living Well Sefton supports the charity sector and individuals in Sefton through grant funding. Information about what is available and when to apply can be found on the Living Well Sefton website.
Learn more about the projects Sefton CVS run in partnership with Living Well Sefton below:
Social Prescribing Link Workers